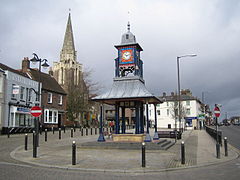 If we mention Dunstable, most people will think of the beautiful and breathtaking Dunstable Downs. But even though we love going to the Downs and take a stroll, we also love coming to Dunstable to clean carpets :)! Over the years we have provided a carpet steam cleaning service in Dunstable.
We put passion into what we do and when you call us to professionally clean your carpets you will get the real deal. We will clean carpets to the industry standard and not cut any corners. We use the full carpet cleaning method following a set of important procedures. Our carpet cleaning method and equipment is far superior to any Do It Yourself machines you will get from hired domestic carpet cleaning machines.
When we see someone opt to do their own carpets we cringe because we know that if they knew what they are missing or if they knew what the self-hire machine is doing to their carpets they wouldnt even dare touch it!
Absolute Cleaning have been trained by the NCCA and TACCA, the bodies that govern carpet cleaners and as such we adhere to a strict Code of Practice.
Our carpet cleaning service in Dunstable also includes a range of carpet cleaning treatments such as scotchguard carpet protection, promite treatment to protect against dustmites. With our knowledge and expertise acquired over the years we will also share with you some useful tips as well as make any recommendation to prolong the life of your carpets.
The end result is that by contacting us, not only will you get a fresh, professoinally cleaned carpet at a competitive price you will get so much more. Not to mention the fact that our service is fully insured just in case of any mishaps.
So go ahead and book our carpet cleaning service in Dunstable on
01582 809 166
Alternatively you can book now online, it's quick and easy!
Booking your slot is as easy as 123, click BOOK NOW button and all relevant prices will be there as well and you can book your slot in minutes!
If you feel the prices on the booking page do not reflect your needs please request a quote below.