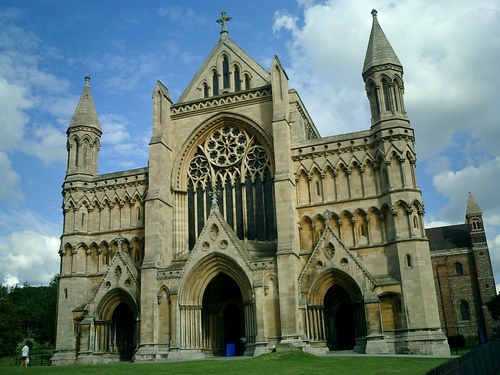 Situated only 20 minutes by train from St Pancras train station, St Albans is not only known for it's Cathedral but is also popular with commuters.
We have spent a lot of time carpet cleaning in St Albans and we know that it is home to many professionals who work in the city and take the 20 minute commute into the capital everyday. St Albans has also been in the top list as one of the good places to live in England and so is also popular with young families who want a safe environment for their children.
For those with families, it is no doubt that carpets can quickly get dirty. It could be due to a potty training accident or spilt juice, all these are a worry if your home is carpeted. Equally for those who are renting, dirty carpets could mean losing your rental deposit.
Worry no more because Absolute Cleaning provides powerful carpet cleaning in St Albans which will leave your carpets looking like new. See for yourself examples of our work on our blog. Using our Hot Water Extraction method we will steam clean your carpets, lifting dirt and stains out. Absolute Cleaning are fully qualified and trained to carry out professional carpet cleaning and so we dont cut corners, but follow an industry standard carpet cleaning process.
Because we understand that cleaning carpets is just half the job, we offer St Albans residents some additional carpet cleaning treatments that will enhance the cleanliness of carpets. These are:-
Promite Carpet Protection-/Allergy Control
– Many of us in the UK suffer from a variety of allergies, and often dustmites are the cause. ProMite Carpet Treatment is the solution to keeping your carpets free from these mites for up to 14 months! Please follow the links to read more. With Promite treatment you will also get stain protection as an added bonus!
Scotchguard Stain Protection
– this is a must have for anyone with carpets as it prolongs the life of carpets and prevents stains.
Bacterial Protection
– this is ideal for use in environments where hygiene is of critical importance such as surgeries, nurseries, nursing homes etc.
You could also opt for our regular carpet cleaning service to ensure that your carpets are cleaned at regular intervals keeping those nasties at bay.
Here are some of the reasons why you should trust us to clean your carpets for you:-
First and foremost we like you to see for yourself what you can get by looking at examples of our work from our blog.
Fully Trained by the NCCA and adhere to the step by step professional way of carpet cleaning
Fully insured-public liability insurance
Eco-friendly products to ensure a safe environment for your children and pets
Quick drying times-2-4hrs
Stain Treatment
After care-we care about the service we offer and are easily available should you have any questions etc.
Competitive pricing-carpet cleaning doesnt have to cost an arm and a leg.
We are genuine in our service, with many satisfied customers on our books.
So go ahead and book our carpet cleaning in St Albans, it's quick and easy and the results are impressive!
Booking your slot is as easy as 123, click BOOK NOW button and all relevant prices will be there as well and you can book your slot in minutes!
If you feel the prices on the booking page do not reflect your needs please request a quote below.
Remember, the service is available in Hertfordshire and Bedfordshire, covering Harpenden, Redbourn, Markyate, Luton, Hemel Hempstead, Welwyn Garden City, Hitchin, Stevenage and other local areas.